contact info: Tom@LudeSPEED.com
phone: 386-956-0089
---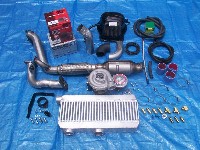 Click to Enlarge
Stage II shares all components with the Stage I kit with the addition of a few special parts. The Stage II kit is designed with the intention of running 5-7psi on a daily basis and will produce enough power to run mid-13 second ETs in the ¼ mile.*
Features:
Along with all the standard parts that are provided in the Stage I kit, the Stage II kit gets the following parts:
Intercooler - OEM Style 3.5 x 6 x 18.5 Top-Mount Intercooler manufactured by SPEARCO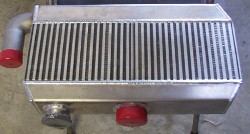 Click to Enlarge
Walbro Fuel Pump – In tank high flow/high volume fuel pump is a direct replacement for the stock unit. This pumps flows 255 liters/hr and is one of the most popular aftermarket pumps available. 5-7 psi Deltagate Wastegate Spring Blitz BOV
*An aftermarket clutch and free flowing exhaust are needed to make the car perform as expected.
Copyright © Tom Coleman, 2001