contact info: Tom@LudeSPEED.com
phone: 386-956-0089
---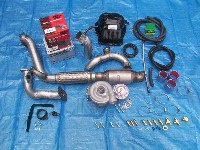 Click to Enlarge
Stage I is an entry level kit for drivers that don't want to spend a huge amount of money to go fast. This kit is designed to run 3-5psi. It produces enough power to run 14.00 in the Ό mile when properly tuned.*
Features:
Garrett T3/T4 turbo- This particular T04B compressor is one of the smallest T4 compressors available to ensure very quick spool-up. The turbo comes on full force by 2500 rpm to deliver EXCELLENT street power at the very moment that you need it. The turbo is water cooled as well as oil cooled to provide longevity.
Deltagate – The Turbonetics Deltagate external wastegate delivers reliable boost control while allowing a 2psi window of adjustability. Standard spring for the Stage I kit is the 3-5psi.
Bosch Blow Off Valve – A Bosch BOV is standard in the Stage I kit.
Autometer Boost Gauge - Phantom 2 1/16" boost gauge
New Oil Pan - A new Oil Pan that is plumbed for the oil return line is provided. This takes A LOT of the hassle out of installing a turbo kit.
Aluminized Piping - All exhaust and intake piping is mandrel bent and aluminized to resist rust.
2.5" Mandrel Downpipe – The downpipe has a single high flow cat to help lower emissions. A stainless steel flex pipe is used so the up/down pipes are not strained.
K&N Cone Filter
98,99 Models also get:
Apexi S-AFC – With proper tuning, this unit provides additional fuel and the ability to fine tune the fuel curve.
MAF Filter Adapter
MAF support bracket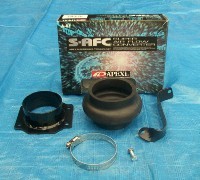 00,01 Models also get:
Cartech Fuel Pressure Regulator – The Cartech Rising Rate Fuel Pressure Regulator (RRFPR) provides a rising rate range of 2psi – 15psi rise in fuel pressure for every psi of boost produced. This rate is adjustable and allows more tuning that a conventional Vortech FMU.
Split Second MAP sensor voltage clamp - (does not allow MAP sensor output to rise above the ECU's accepted voltage level)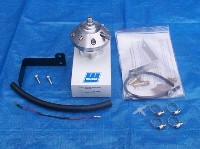 Stage I kit Options:
Walbro fuel pump - $150 Can run 6-7psi on Stage I kits with proper tuning
If you want the Intercooler at a later time, the intercooler add-on kit is $700 (Piping Included)
*An aftermarket clutch and free flowing exhaust (2.5" or larger) are needed to make the turbo perform as expected.


Copyright © Tom Coleman, 2001