contact info: Tom@LudeSPEED.com
phone: 386-956-0089
---


Results from the LudeSPEED test car and customers' cars


Test Car: 2001 Subaru 2.5 RS - Fully Loaded

Stock Clutch
Stock Wheels
Stock Exhaust

Ran 15.6 ET in the 1/4 mile (mph not available)


Equipped with LudeSPEED Stage II Turbokit - 5psi
Everything else still stock

Ran 14.48 @ 92MPH in the 1/4 mile
It should be noted that the very first time the owner drove the car turbocharged was when he took it down the track. I was working on it until it was time to take it to the track so I had to meet him there. He did a great job of pulling a 1.922 60ft time and running the 14.48 ET.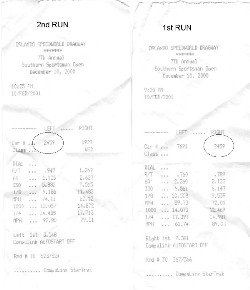 Click for larger image



Equipped with a LudeSPEED 2.5 inch exhaust
14.2 @ 96 MPH With the stock clutch
13.6 @ 99 MPH with the new clutch
The stock exhaust is 1 3/4 inch and is absolutely pathetic for a turbo motor. A 2.5 inch exhaust is twice as large and is far more suitable for a turbo motor. Just from driving it on the street there is a HUGE power increase. It is easily a 13 second car except for the stock clutch. Even running only 6psi, it was starting to slip and still running rich. Compare this to Steve's 98 RS with the Minnam Stage II kit (Forcedfed4.com) and 2.5 inch exhaust, he ran 14.4 at 7.5 psi with the stock clutch slipping. So, hopefully you can see the potential. Steve also ran 13.7 @5psi once he got his clutch installed. Ricky was able to run 13.6 @8psi with the new ACT clutch. With some tuning, the ET will drop a little more.


Results from a LudeSPEED customer
Joel - Stage II kit
13.99 @ 97MPH at 4psi